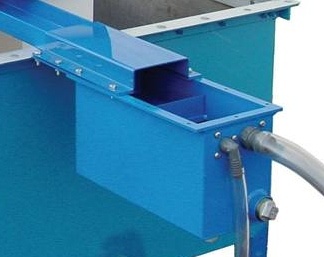 If you are running your skimmer 24/7 and the tank or pit runs out of oil, your skimmer will pick up whatever is remaining in the tank, and most of the time that will be water or coolant. There is a way to prevent this and that is by utilizing an oil water separator/concentrator in conjunction with your oil skimmer.
Oil Water Concentrator
The oil water concentrator attaches to the skimmer and helps in further separating the water/coolant from your oil. This unit is placed on the back of the skimmer. The skimmed material is drained into the concentrator and then it separates the water from oil. You can then drain the water back into the tank or well through one hose, and the oil drains from another. So, next time you're wondering how to increase the efficiency of your oil skimmer, take a look at the oil water concentrator to help solve your dilemma.
How Oil Water Concentrator works?
The Oil Concentrator is non-electrical and contains no moving parts — it simply receives liquid directly from the skimmer. Based on the principle of gravity separation, the Concentrator tank is sized so that there is adequate dwell time for the oil and water to separate. Water discharge is through a tube that has an open end near the bottom of the Concentrator, while oil flow is through a separate drain port near the top. As additional liquid enters the Concentrator, water and oil are forced out through their respective discharge tubes and ports. A sludge screen provides additional dwell time for separation while preventing debris from contaminating either the water or the oil.
Abanaki Oil Concentrator
The Abanaki Oil Concentrator provides virtually complete oil/ water separation for recycling or disposal of either liquid. Under most operating conditions, Abanaki skimmers pick up oil with only small traces of water. However, as surface oil is reduced to a thin layer (1/16 inch thick or less), more water (or coolant) may be picked up along with the oil. When used in tandem with an oil skimmer, the Oil Concentrator solves this problem by providing final phase separation. The result is water (or coolant) available for recycling, and virtually water-free oil for disposal.
Installed at the discharge end of the oil skimmer, the Concentrator comes complete with mounting bracket, removable sludge screen and drain plug for easy cleaning. An optional thermostatically controlled heater is available for use with thick oils, or when the application is in freezing temperatures. (A heater should not be used in environments where explosive fumes might be present.)
Abanaki recommends the use of the Concentrator with all oil skimmers. It increases the efficiency of the skimmer and reduces costs associated with oil disposal.
---
---
To learn more about oil skimmers, please contact our experts at 440-543-7400 or visit our website: www.abanaki.com
---
---
HOW TO TELL WHAT SKIMMER YOU NEED FOR YOUR MACHINE COOLANT