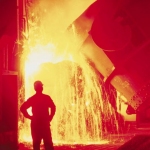 Abanaki offers industrial wastewater skimmers specially designed for steel mills where plant maintenance engineers are looking for the lowest cost, most reliable method of removing greases and heavy oils from the steel-mill scale pit. Abanaki oil skimmers use the difference in specific gravity and surface tension between grease and water, allowing the belt to attract grease and oil as the belt passes through the surface of the water. The simple belt-and-motor approach is proven to operate unattended and reliably for decades with little maintenance.
To avoid fines from government and municipal sewer districts, steel mills must limit the amount of grease in wastewater discharged into the environment. The Grease Grabber® oil and grease skimmer provides a continuously operating belt and wiper that can remove up to 160 gallons per hour of heavy greases and oils. Depending on the characteristics of the liquid, the oil/grease skimmer is capable of reducing grease content to fewer than five parts-per-million in water. Reclaimed grease and oil can be re-used or used as furnace fuel, avoiding sucker truck disposal costs.
Using a double drive roller and tail pulley system, the grease skimmer belt runs through wastewater to pick up grease and heavy oil from the surface. The belt travels over the head pulley and then passes through tandem wiper blades, from which oil is scraped off both sides and discharged. A heated hopper keeps grease flowing in cold outdoor temperatures.
The tail pulley features flanges that allow the pulley to roll freely on the inside of the belt without becoming dislodged in turbulent applications. No bearings are needed; the unit does not need to be fastened to the tank. An optional tether and cage assembly is offered to prevent the tail pulley from being dislodged. The Grease Grabber oil skimmer can be used in pits with depths as shallow as one foot or as deep as 100 feet.
To find out which of our skimmers would suit your application the best, please contact our experts at 440-543-7400, or click the button below to get more information about Grease Grabber.