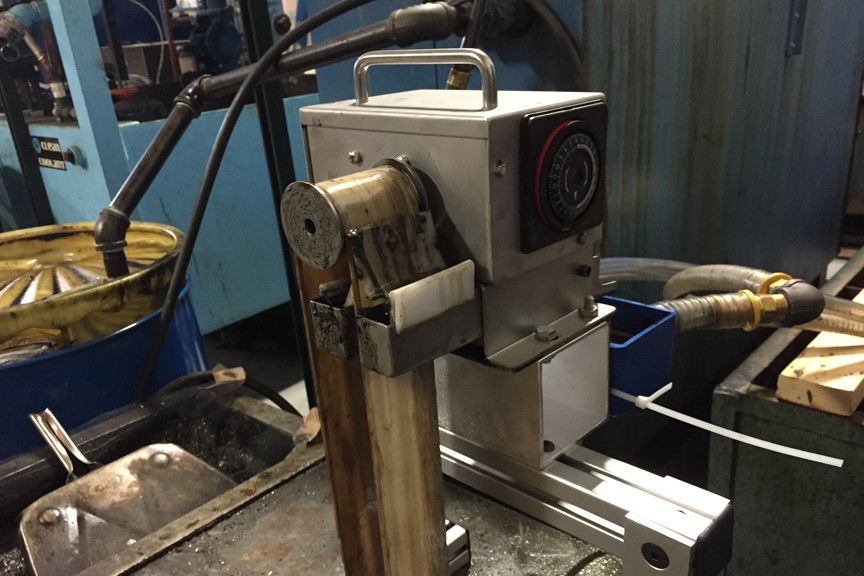 Choosing a high-quality belt oil skimmer for removing tramp oil from machine tool coolant is challenging.
Belt oil skimmers use an endless belt of corrosion resistant steel or synthetic medium, which is lowered into the tank or vessel to be skimmed. The belt passes through resilient wiper blades where the oil is removed from both sides of the medium.
Despite many belt oil skimmers looking similar, quality and versatility can vary. This video shows what to look for.
How Do Belt Oil Skimmers Work?
Belt oil skimmers utilize the differing specific gravities between oil and coolant/water to remove tramp oils. A motor driven belt that is typically constructed of an oleophilic, or oil attractant material, is placed into a coolant sump or reservoir. As the belt moves through the coolant, it attracts tramp oils. The oil is scraped off by a wiper and deposited into a container.
Belt oil skimmers provide a simple, dependable and cost-effective method for removing oil, grease and other hydrocarbons from water.
Mighty-Mini Belt Oil Skimmer
Belt oil skimmers can really help in extending the life of your costly coolant. Belt oil skimmers help remove oils that leak from machines or parts to keep your coolant clean. By removing the oil with coolant skimmer, you can significantly increase the life of your coolant.
The stainless-steel Mighty Mini is a compact belt oil skimmer designed for parts washers and machine tool coolant sumps. With its large discharge trough and small operating space, the Mighty Mini fits almost anywhere.
The stainless-steel construction resists rust and corrosion in harsh environments. It is lightweight and requires minimal assembly. With its durable stainless-steel construction, it is built to give long lasting performance. The removable trough makes cleanup fast and easy.
---
To learn more about oil skimmers, please contact our experts at 440-543-7400 or visit our website: www.abanaki.com
---
---
You are just one step away from downloading Abanaki's most detailed resource on our oil skimming equipment. Simply click at the button to get your ultimate guide now.