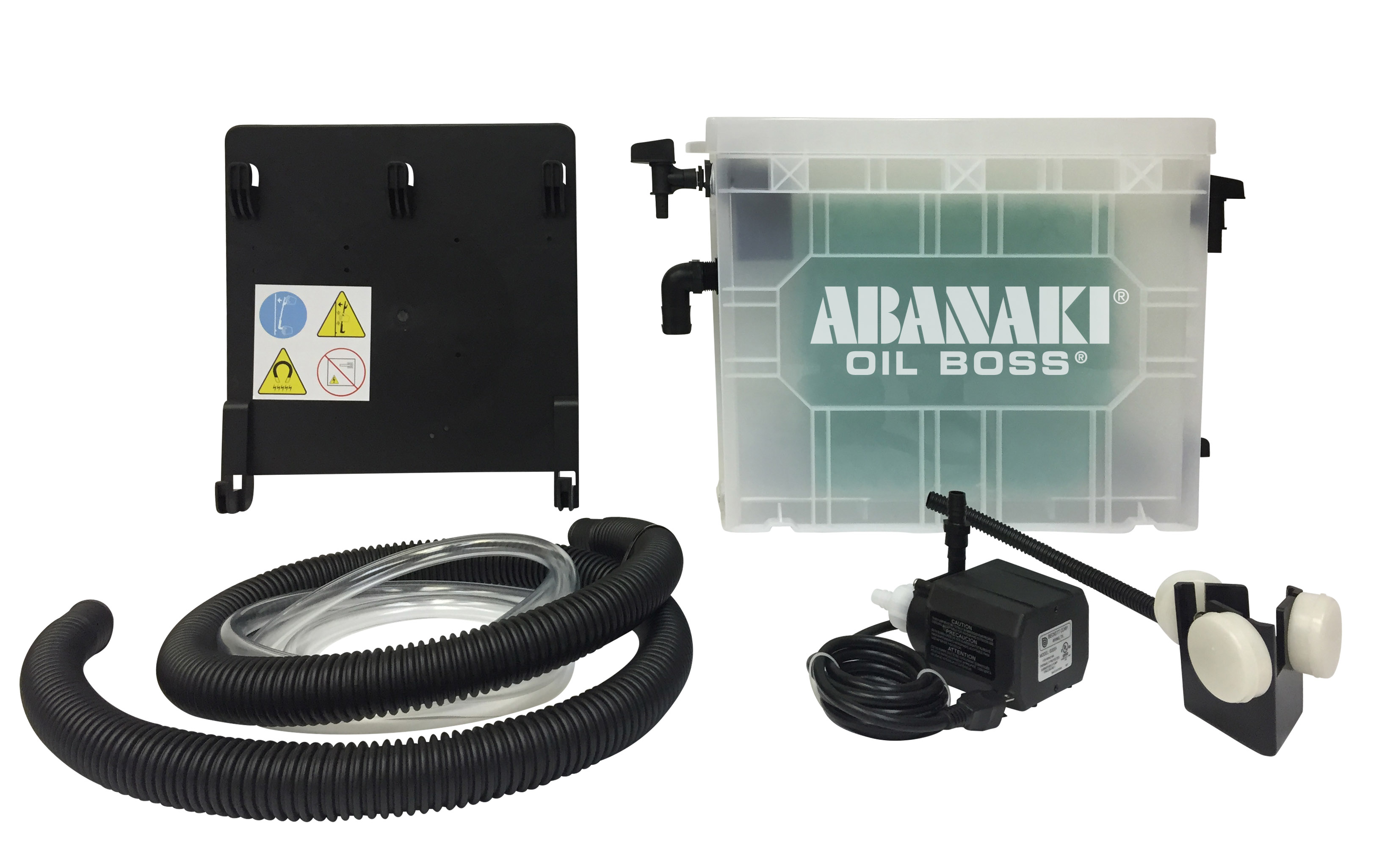 Multiple options exist for the collection of tramp oils. Two of the most common are oil skimmers and coalescers. Both offer unique advantages and disadvantages in certain applications.
Coalescers
Coalescers focus on collecting oil into larger droplets. Using a filter medium, the oil is gathered into one place and combines into a larger oil droplet, heightening the differing densities of oil and water. The oil then floats to the top of the coalescer, allowing removal by other means.
Coalescers have an advantage in specific coolant-related applications. Coalescers cover a bigger collection area than oil skimmers, speeding recovery and reducing need for moving the oil collection device.
Unlike oil skimmers, coalescers have no need for a collection container, preventing the potential for spillage. Abanaki's Oil Boss can also be hung from a metallic surface, preventing the floor space footprint of other coalescers and oil skimmers.
Oil Skimmers
Oil skimmers focus on removing tramp oils using oleophilic belts. These belts attract the tramp oils and drag them up to a trough where they are scraped off, removing them from the water or coolant. Different belts have different specialties, such as steel belts being suited for LNAPLs and tramp oils.
Oil skimmers have an advantage in more varied conditions. Able to be used in high temperature applications where plastic coalescers might face pump failures, oil skimmers can withstand more extreme environments.
In addition, oil skimmers do not have to worry about pumps clogged by shavings or solid byproducts like coalescers might. Dirty oil can also go back into the sump in coalescers, while oil is completely removed by a oil skimmer. Oil skimmers also have more applications than coalescers, such as environmental remediation.
For more information about our line of coalescers and oil skimmers, take a look at our product catalog using the button below, or contact us via phone at (440) 543-7400 or via e-mail at skimmers@abanaki.com.