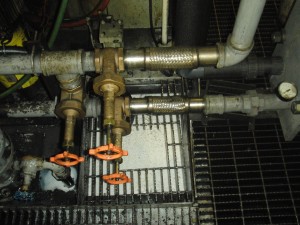 Coolant skimmers typically don't come attached to CNC machines when they are newly bought. This is because nobody wants to admit that the brand-new machine is eventually going to leak oil into the coolant. This looks good on paper, but there is a reason why so many coolant skimmers are bought annually. CNC machines are bound to have at least a small amount of oil leaking into the coolant at some point. The skimmer will remove this oil from the top of the coolant for disposal. Without some type of coolant skimmer, the coolant life will be dramatically decreased. These small coolant skimmers will save you money throughout the operational life of your CNC machine.
Coolant skimmers can really help in extending the life of your costly coolant. Coolant skimmers help remove oils that leak from machines or parts to keep your coolant clean. By removing the oil with coolant skimmer, you can significantly increase the life of your coolant.
So, is your product quality being affected by floating oil? Have you asked yourself how you remove oil from water effectively and efficiently?
One of the best coolant skimmers of Abanaki coolant maintenance line is Mighty Mini Oil Skimmer. It is a belt style skimmer that will remove the floating oil that is compromising your product quality, reducing your coolant life, and stinking up the shop. Putting an oil skimmer in your coolant tank will allow you to remove this oil from the top of your coolant 24 hours a day if needed or you can set the timer to turn on in 15-minute increments. A belt oil skimmer is easily maintained and the only consumables are the belt and wipers. We have been providing oil skimmers for years to machine shops and manufacturers across the globe and they have proven to be both reliable and cost-effective. The Mighty-Mini is a belt style coolant skimmer that is ideal for a wide variety of applications due to its stainless steel construction and its built in timer. This skimmer comes standard with a steel or Elastomer belt.
To find out more about Mighty-Mini Oil Skimmer, please contact our experts at 440-543-7400, or click the button below to get your Mighty-Mini Brochure.