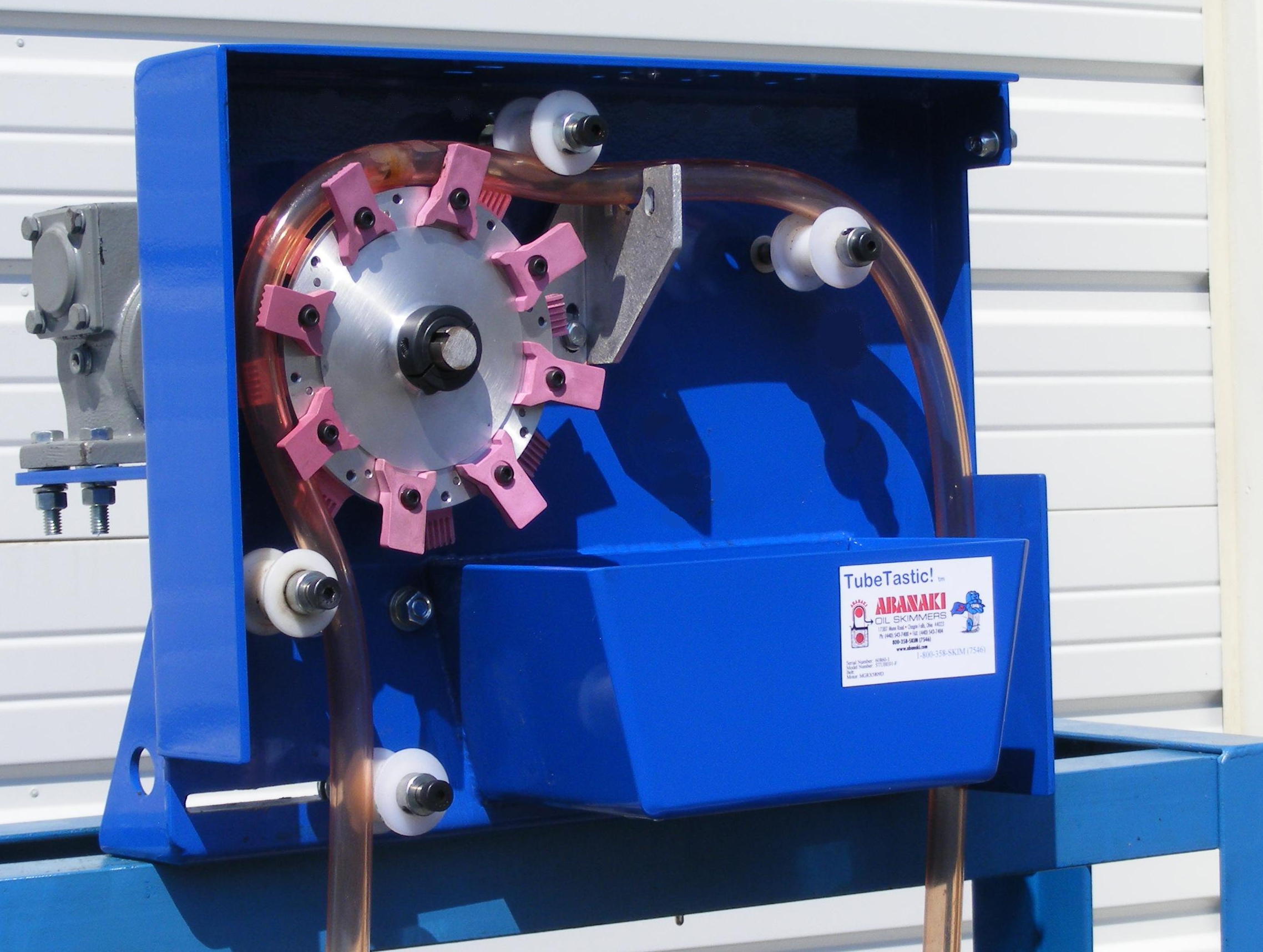 Tube oil skimmer can be used in wastewater applications that are shallow in depth. Plus, tube oil skimmer is a great fit where a belt skimmer is too big.
The Abanaki Oil Viper tube oil skimmer
The Abanaki Oil Viper tube oil skimmer is a surface oil skimmer that effectively removes floating oils by means of an oleophilic (oil attracting) ¾-inch diameter continuous looped tube. Due to the sleek design of the Oil Viper tube oil skimmer, it can skim in just inches of water compared to a belt skimmer which could need one to two feet of water to skim from.
The Oil Viper tube oil skimmer works off the same principle of the belt skimmer, the tube breaks the surface tension of the water, the oil is then collected and skimmed off by its unique wipe clean design. Two tube materials are available, the standard tube is great in a wide variety of applications; the high temperature tube is best suited for high temperature or caustic applications.
Oil Viper tube oil skimmer features:
Compact design fits almost any tank or pit

Explosion proof motors available

Safety shut-off switch for safe operation

Simple and effective drive design for lasting performance

Unique wiping system for more effective oil skimming
Where to Use the Oil Viper?
The Oil Viper is a compact, versatile Abanaki skimmer. Its size and removal capacity make it suitable for most applications. From a mere shimmer on top of water to a heavy oil slick, the Oil Viper performs efficiently, removing up to 100 gallons of oil per hour.
Typical Applications:
Wastewater sumps

Parking lots, garages and service facilities

Underground tanks

Ships bilges

Aircraft service areas and tarmac runoff
Rugged Construction for Harsh Conditions
The Oil Viper is designed to last for many years. With the proper configuration it can handle liquid temperatures up to 212°F, and the pH of the fluid can range from 3 to 13. The skimmer drive includes an oil filled gear reducer with bronze gears and ball bearings. The motor, gear reducer, and powder coated finish of the weldments give the Oil Viper exceptionally long life, even under the harshest conditions.
---
To learn more about oil skimmers, please contact our experts at 440-543-7400 or visit our website: www.abanaki.com
---
---
See the Oil Viper tube oil skimmer in action!