In outdoor applications, the use of heaters may be required to keep skimmed product fluid so it can be effectively removed from the medium and collection tray. This is particularly true for grease skimming, which involves higher viscosity at all temperatures. Polymer materials are limited in their heat tolerance, so oil skimmers equipped with these media may have only tray heaters.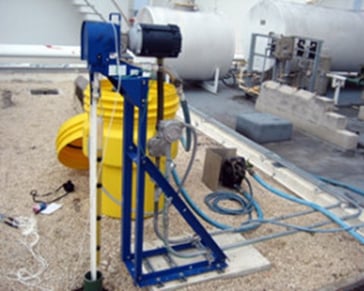 Oil Skimmers Accessories
Oil skimmers with steel media can apply heat to both the tray and the medium, which improves performance in severe winter climates. To resist corrosion, a stainless-steel housing also may be needed. Above ground enclosures and underground manway mounting kits provide additional protection from the elements.
Commonly used materials for wiper blades are nitrile, [CRV] and ceramics. Nitrile is suitable for use as high as 176° F in neutral pH liquids. For higher temperatures and acidic or alkaline liquids, [CRV] wipers work well. Ceramics are resistant to more chemicals, but are prone to breakage.
For hazardous duty locations with ignitable fumes, explosion-proof motors are mandatory. Special corrosion resistant motor housings may be required for sanitary washdown situations in food plants. Different voltages and power frequencies are needed for some plants.
In many applications, oil skimmers can run unattended for days or weeks. This is typical for groundwater remediation applications at remote well sites. When controls are used, they tend to be either manual on/off switches or 24-hour timers to start and stop the unit at predetermined times.
Oil Skimmer Reliability and Maintenance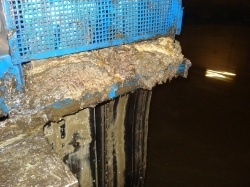 Oil skimmers require a certain amount of routine maintenance, primarily periodic cleaning and checking wiper blade adjustment. Easy removal of safety covers shielding the moving medium and its pulleys will reduce maintenance time.
In terms of drive designs, those with separate gear reducers tend to be somewhat more robust than unitary gear motor drives. Chain drives, which are found on a few models, need to be lubricated regularly and the chain should be protected from debris and other impediments.
---
To learn more about oil skimmers, please contact our experts at 440-543-7400 or visit our website: www.abanaki.com
---
Abanaki Model 8 Belt Skimmer in Operation