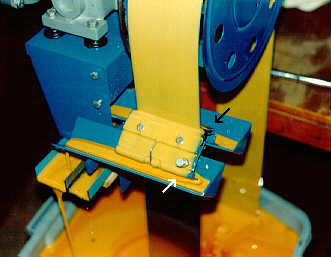 There are many reasons why so many facilities use the Model 4 oil skimmer as part of their industrial wastewater treatment. The Model 4 oil skimmer is designed to last for many years. With the proper configuration it can handle liquid temperatures up to 212°F, and the pH of the fluid can range from 3 to 13. Belts are specifically selected for your application (see Belt Selection page). The skimmer drive includes an oil filled gear reducer with bronze gears and ball bearings. The motor, reducer, and powder coated finish of the weldments give the Model 4 exceptionally long life, even under the harshest conditions.
Our belt oil skimmers are used in industrial wastewater treatment applications quite frequently. An international manufacturer in the power transmission industry has been using our Model 4 belt oil skimmer as part of its manufacturing process for many years. The facility utilizes a poly belt on the Model 4 that is used in the parts washer, and it runs at roughly 140°F. The skimmer runs 8 hours a day and efficiently skims the oil out of the parts washer and helps to eliminate the company's disposal costs.
The Oil Grabber Model 4 Belt Oil Skimmer
The Oil Grabber Model 4 Belt Oil Skimmer provides a continuously operating belt and wiper that can remove up to 20 gallons per hour. Depending on the characteristics of the liquid, it is possible for the Model 4 alone to reduce oil content to less than five parts per million in water. The unit can be used as a pretreatment before filtration, and in conjunction with coalescing systems as part of an industrial wastewater treatment plan. Reclaimed grease and oil can be re-used or used as furnace fuel, avoiding sucker truck disposal costs.
The Model 4 belt oil skimmer utilizes a continuous belt and wiper to remove up to 20 gallons of oil per hour from the fluid surface. The belt, operating on a motor and pulley system, runs through contaminated liquid to pick up oil from the surface.
After traveling over the head pulley, the belt passes through tandem wiper blades where oil is scraped off both sides of the belt and discharged. The tail pulley has flanges which allow it to roll freely on the inside of the belt without becoming dislodged. It requires no bearings and does not need to be fastened to the tank. If turbulent conditions exist, an optional tether and cage assembly prevents the tail pulley from being dislodged.
---
Oil Skimmers Get the Dirty Jobs Done
---
To learn more about oil skimmers, please contact our experts at 440-543-7400 or visit our website: www.abanaki.com
---
---
You are just one step away from downloading Abanaki's most detailed resource on our oil skimming equipment. Simply click at the button to get your ultimate guide now.