Abanaki has a new addition to its extensive coolant maintenance line. The new Coolescer with ChipStop Filter is an ideal solution for machine shops. The Coolescer with ChipStop Filter will extend coolant life, reduce disposal costs, minimize down time, improve tool life, and help prevent dermatitis.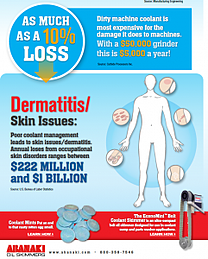 The Coolescer makes it easy to make coolant last longer and reduce disposal costs for any shop.The Coolescer pumps the top ¼" layer of coolant and oil through a coalescing cartridge where the oil is separated from the coolant. The separated oil is removed via the oil discharge valve, and the cleaned coolant is aerated and pumped back to the coolant sump.
The durable plastic unit removes oil from areas where conventional skimmers won't fit. It takes the place of a skimmer and aeration system in a smaller, compact and portable package. It features leak-proof fittings, a crush-resistant hose, a self-contained system, and a coalescing cartridge that will never need to be replaced. With the new ChipStop Filter, all metal shavings or particulate that are generated in the machining process will get collected during the filtration process, leaving the shop with clean, reusable coolant.
For more information on the new Coolescer with ChipStop filter, click the photo below.