A customer in South Korea recently contacted Abanaki in search of a wastewater skimmer. The company is a steel mill that makes hot and cold rolled steel, as well as other types. The problem the facility was facing was that lubrication grease and oil from the production line was ending up in the wastewater pit. The water cannot be discharged until the grease and oil levels are reduced to environmentally safe levels. After further assessment of the company's manufacturing process, Abanaki suggested it use a Grease Grabber® Belt Oil Skimmer to solve the problem. This skimmer is capable of handling thick greases and oils due to its belt drive assembly that physically pulls the belt through the wiper blades. The heated discharge hopper thins down the grease to make for easier discharge of the recovered product. By adding the Grease Grabber as a wastewater skimmer to its process, the company was able to remove the floating greases and oils from the wastewater pit, the pollution levels were reduced and met environmental standards.
Many companies have seen success in wastewater treatments with the Grease Grabber. Due to its rugged and simplistic construction, it is capable of lasting 20 years or longer. It has removal rates of up to 160 gph (gallons per hour). The belt type is chosen based on the particular application. Not all applications are alike and require specific belt materials to operate efficiently. The Grease Grabber can handle liquids between 32°F and 212°F, with pH between 3 and 13. The motor, gear reducer, and powder coated finish of the weldments give the Grease Grabber an exceptionally long life, even under the harshest conditions.
For more information about how the Grease Grabber and other Abanaki products have assisted companies in the Steel Industry, click the photo below for information and case studies!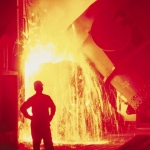 Click here for information on how Abanaki's wastewater skimmers are used in the Steel industry!