A customer with a CNC application has been using our Mighty Mini SST Oil Skimmer for years for its coolant maintenance and has seen success with removing oil from the coolant. Recently, the facility changed the type of coolant they were using and noticed they were starting to pick up large amounts of coolant in the retrieved oil. After contacting Abanaki for a solution, it was decided that the company should add the ODM100, an oil concentrator, to the Mighty Mini in the application. The oil concentrator is a secondary separator that will separate the oil from the coolant, and then return the coolant back to the sump. Since adding the oil concentrator to the CNC application, the plant operators have been able to get back to where they were before and separate the oil from the coolant.
The ideal solution to unwanted oil in coolants and parts washers therefore extending the life of coolant and wash water! The Mighty Mini SST Oil Skimmer can remove 1 to 2 gallons of medium weight oil per hour (depending on belt selection). Its stainless steel construction enables it to operate in harsh chemicals and heat while its integrated timer lets it run only when needed. It is compact making efficient use of available space... it fits underneath most CNC machines as well as inside parts washers. The Mighty Mini weighs only 8 pounds and the ease of installation make this skimmer the most versatile of our line. Use it here today and there tomorrow as it installs in just seconds. The Mighty Mini is your go to skimmer for any of your coolant maintenance needs!
For more information about the Mighty Mini and the rest of Abanaki's coolant maintenance line click the photo below.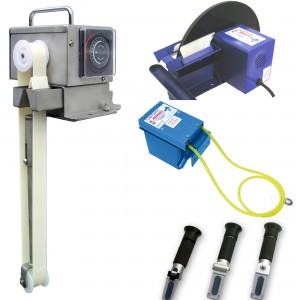 Click here for demos, literature, and case studies about Abanaki's Coolant Maintenance Line!