There are several things to consider when choosing a belt or tube material for your oil skimmer. Some plastics will not stand up to heat or strong chemicals. Certain metal belts will not skim coolants effectively. Smooth belts do no pick up floating emulsified oils. Specific plastic belts do not last in heated applications, while other types of plastic belts will.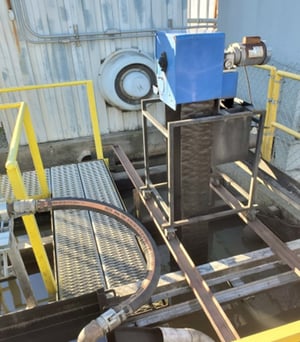 This is yet another reason why it is so important to pick a reputable oil skimmer vendor and tell them all of the information about your application. They should have the knowledge and understanding that no two applications are alike and not all belts and skimmers are the same.
Here are the common types of skimmers used in oil removal.
Belt Skimmers
Belt-type oil skimmers use an endless belt of corrosion resistant steel or synthetic medium, which is lowered into the tank or vessel to be skimmed. The belt passes through resilient wiper blades where the oil is removed from both sides of the medium.
Disk Skimmers
These oil skimmers rotate a disk shaped medium through the liquid. Oil is wiped off and discharged into a collection container in a manner similar to belt oil skimmers. It is important to consider reach, the portion of the disk that actually gets immersed, when looking at a disk oil skimmer. Less disk in the fluid means less oil removed. Obviously, fluctuating fluids can be a real problem for disk oil skimmers.
Large Tube Skimmers
Tube oil skimmers use a floating plastic hose that snakes out over the surface of the liquid and is then drawn back through the drive unit where oil is removed. This design requires a relatively large amount of surface area for proper operation. This oil skimmer can skim from very shallow tanks. As a rule, the removal capacity is lower than belt, drum or mop type oil skimmers.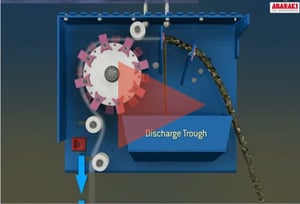 Mini Tube Skimmers
Very similar to the large tube units, but use either a 3/16˝ or a 5/16˝ tube instead of 3/4˝. The pickup rate varies from 1 quart/hour to 0.5 gph depending on the diameter of the tube. These units are fairly compact, and can fit in tight spots. The better units will have the motor mounted underneath, to bring room required over the lip of the tank down to near zero. The 3/8˝ diameter tube is preferable as it has a 1 gph removal capacity and enough stiffness to not drag on the housing and prematurely wipe off oil when being drawn into the unit.
---
To learn more about oil skimmers, please contact our experts at 440-543-7400 or visit our website: www.abanaki.com
---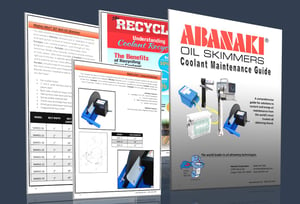 The Ultimate Coolant Maintenance Guide
Abanaki's coolant maintenance guide is a must if you have machining centers in your facility.
Learn why removing tramp oil extends coolant life, reducing costs and disposal liabilities.