Why Coolant Goes Bad
The cause of the deterioration was a thin layer of oil which formed on top of the coolant while it was in the sump. Possible sources of the oil included way lube, minute leaks in the hydraulic system, and the natural deterioration of the coolant itself, in which the vegetable and mineral oils that make up the coolant separated from the water. The oil prevented oxygen from mixing with the coolant and allowed anaerobic bacteria to thrive. The bacteria then caused the coolant to break down even more.
Coolant is Costly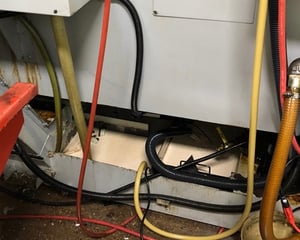 To replace coolant and increase machine downtime could be a very costly. Replacing and disposing of gallons of coolant was expensive in itself. It also meant shutting down the machine for a full day while two or three maintenance workers drained the coolant, washed down the machine, recharged the system, and primed the pumps. Losing the machine for a day was a big blow. If you're doing that every two months, that's a lot of production time that goes down the tubes.
A Solution That Works
What could be the best option to remove the oil from coolant? What is the best money-saving method to replace coolant and reduce the unnecessary machine downtime?
Depending on the tank size and removal capacity, Abanaki Tote-It Portable Belt Oil Skimmer with an Oil Concentrator is one of the best solution. The skimmer's belt operates on a motor and pulley system attached to a stabilizer bar that is immersed in the coolant.
Tote-It Oil Skimmer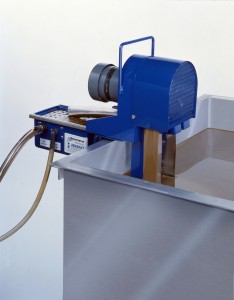 The Tote-It makes use of the differences in specific gravity and surface tension between the coolant and the oil. These differences allow the belt to attract oil from the surface of the coolant. After traveling over the head pulley, the belt passes through tandem wiper blades which scrape oil off both sides of the belt.
Oil Concentrator
The oil is then discharged through a 1¼˝ ID hose into the oil concentrator. The oil concentrator utilizes gravity to separate the oil from the small amount of coolant that is picked in the skimming process. The separator ensures virtually complete oil/water separation, allowing the coolant to be returned to the system.