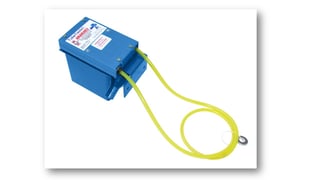 Tramp oil is huge problem for machining centers. It can affect the appearance of the finished part, lead to worker skin conditions and leave a haze of smoke in the shop creating an environmental hazard. Many machining centers built today have limited access to the coolant sumps more than they used to. This creates a dilemma: how do you remove oil from a coolant sump when you barely have access to it? A mini tube skimmer, like the Abanaki's Tubetastic!®, may be the perfect solution for this problem. The Tubetastic! has an oleophilic tube that snakes into your machining center and removes the oil from the surface of your coolant. It attaches to the side of the tank lip or it can enter through a slot in the side of the machine. Furthermore, i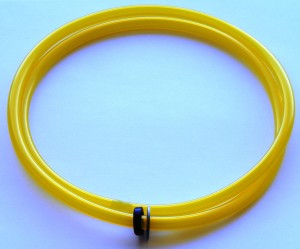 t has a high capacity to remove oil. The Tubetastic! can remove as much as 1.5 gph of oil from the surface of cutting fluid, enough to handle virtually any tramp oil problem.
The TubeTastic! features a 50/60hz fan-cooled, continuous duty motor in either 110 or 220v and standard collector tubes allowing reaches of 8″, 12″, 18″ or 24″ with longer lengths available.