One of the many dirty tasks in the auto-dismantling industry is having to clean the interceptors out. This process is not only time consuming, it can be costly due to the high disposal costs. A UK auto-dismantler has been using Abanaki's PetroXtractor for 2 years now for used oil removal and the benefits the facility has seen are numerable. The company chose the PetroXtractor belt oil skimmer because the facility was tight on space but the operators still wanted a unit that would have high used oil removal rates.
Since first utilizing the PetroXtractor, the company's waste disposal costs have dropped dramatically. Before the use of the PetroXtractor, the interceptor was emptied 3 times a year costing £4200.00 (about $6,931.00). Now, the company can get by emptying the interceptor only once a year, costing only £1400.00 (about $2,310.00). Additionally, in the UK, waste oil can be sold for roughly 15 pence (25 cents) a litre. With the help of the PetroXtractor now collecting the used oil, the facility can make a profit on the nearly 40 liters (10 US gallons) they recover daily. So, not only has the PetroXtractor saved them money, the company is now making money they were not receiving prior to the use of the oil skimmer. The company is also saving on power costs! It uses old car batteries that are on site to operate the PetroXtractor, which is a great way to recycle and get use out of what would typically just get thrown out.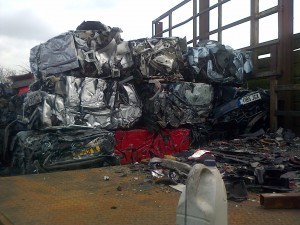 More importantly, oil contamination is a serious environmental offense and having the PetroXtractor at the facility now prevents the company from causing any sort of environmental threat. Just beyond the facility is a plot of land that sheep are kept in, and the sheep drink the runoff rain water. With the use of the PetroXtractor the company is able to ensure that there is no oil contamination in the runoff water that reaches the field and the sheep. A fine from the Environment Agency in the UK can reach £50000.00 (about $82,515.00), which is far more expensive than an oil skimmer. The skimmer truly pays for itself.
For more information about how the PetroXtractor can save your company money on used oil removal click the photo below!