A US customer utilizes an Oil Viper Tube Skimmer at an abandoned steel mill in an old scale pit. The tube skimmer is used to collect the oil that leaches from the scale. Within the first 24 hours of use, the Oil Viper reclaimed 250 gallons of oil. Because of the immediate success they saw with the initial tube skimmer, the plant operators chose to get a second Oil Viper to help speed the reclamation process along. The skimmers will be used all year long with the exception of the winter months, in which the pit will freeze over.
The Oil Viper Tube Skimmer effectively removes floating surface oils from pits or tanks. The oil viper uses an oleophilic (oil attracting) continuous looped tube that extends out over the tank or pit and collects the oil. Additionally, the Oil Viper has a unique wiper blade design on the tube as well as the wipers on the skimmer itself. The result of this unique wiper combination is a virtually oil free tube as it leaves the skimmer. To learn more about this powerful little skimmer, click the photo below to see an animated demo and detailed product literature!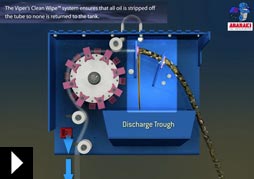 For detailed brochures and videos on this unique tube skimmer, click here!