A customer that has a bearings manufacturing facility has been using our Tote-It oil skimmers for many years to remove hydrocarbons from the wastewater. The Tote-It is a portable belt oil skimmer that is designed to suit parts washers and machine center applications. And while the Tote-It was handling the job in the smaller tanks, they found that they needed something else to help clean the bigger tanks at the facility. The plant operator called up John at Abanaki for suggestions on what they could use for the larger tanks.
John went to the facility to get a better understanding of the process and what was going in to the tanks and concluded that the company could use the Oil Viper tube skimmer. The Oil Viper is a surface tube skimmer that can effectively remove hydrocarbons from wastewater tanks. The Oil Viper utlizes an oil attracting 3/4 inch tube that extends out over the surface of the tank and collects any free floating oils. The Oil Viper has a specially designed method for removing the oil from the tube. It has a unique wiper combination attached to the tube itself in addition to the ceramic wiper on the skimmer. The result is a virtually oil free tube as it leaves the surface oil skimmer for quicker oil removal. Removal rates can be as high as one hundred gallons per hour.
The facility tested out the Oil Viper on one of its larger tanks and were so pleased with the Viper's efficient operation, they ordered five for the larger tanks at its facility.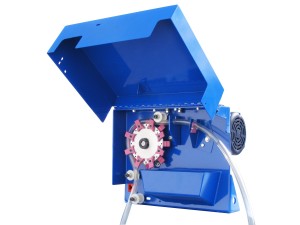 Whether it be a big or small operation, Abanaki has an oil skimmer that will remove unwanted hydrocarbons from water. Our knowledgeable sales people have years of experience in a multitude of applications that enable them to find a skimmer that will work for your application. Do you have oil in water issues? Click the photo below to find out how we can help!