Abanaki has just released an animated demo for a product from the groundwater remediation equipment line. The video demonstrates the PetroXtractor Active Membrane Skimmer, which is a pneumatic active skimmer pump that is entirely automatic and is designed to recover light non aqueous phase liquids (LNAPL) from underground water at depths of up to 130 feet.
The PetroXtractor Active Membrane Skimmer is a combination of a pump and skimmer that fits inside a monitoring well, the only solution on the market to use a combination pump and skimmer technology. The unit features an advanced patented membrane that skims the light hydrocarbons and keeps water out of the recovered liquid, which lowers disposal costs. This selective membrane is designed to recover free floating hydrocarbons such as gasoline, diesel fuel, aviation fuel, and kerosene as well as other LNAPL from groundwater.
To learn more about the cost-effective advantages the PetroXtractor Active Membrane Skimmer has over other groundwater remediation equipment on the market and to watch the new demo, click the video still below!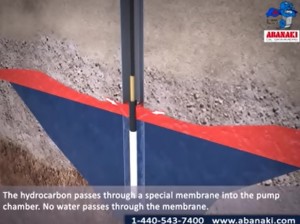 Click here to launch groundwater remediation equipment demo!