Anyone that works with coolant knows about the potential foul stench that looms around the corner. When a machine is shut down for the weekend, oil has a chance to come to the surface of the coolant tank. Bacteria that are living in the coolant tank use up the dissolved oxygen in the coolant mix, a process that is sped up by having a layer of oil on the surface. This allows odor causing anaerobic bacteria to thrive, giving off that familiar "rotten egg" smell.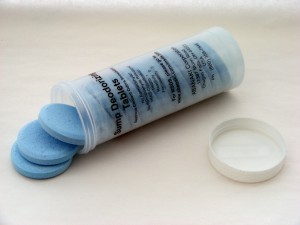 Abanaki offers a wide range of coolant maintenance products. One of these items is our Coolant Mints. These tablets are safe to handle and eliminates odors by neutralizing them, not covering them with perfumes or fragrances. The Coolant Mints contain zero formaldehyde and causes zero issues with disposal. 1 tablet per week can maintain 25 gallons of coolant!
For more information on this easy to use coolant maintenance tool or any coolant maintenance product from Abanaki, click the photo below!