Everyone is thinking "Green" these days and looking for ways to make the world a cleaner place. Why not start with the groundwater? The PetroXtractor groundwater remediation oil skimmer can be placed in an existing monitoring well and remove the oil from the contaminated groundwater quickly and efficiently. The skimmer can run off the sun with its solar powered oil skimmer option making it a cost effective solution for even the most remote groundwater remediation sites. Just like the rest of the Abanaki oil skimmers, the PetroXtractor can remove a wide variety of oils including fuel oils, coal tar, and creosote at rates up to 12 gallons per hour. No more bailing, no more expensive pump and treat. The PetroXtractor oil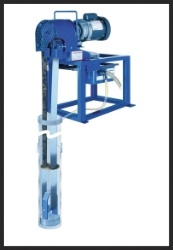 skimmer is the perfect green solution for groundwater remediation.

The Abanaki PetroXtractor belt oil skimmer is designed for groundwater remediation. This belt oil skimmer is made to go down your monitoring well and remove hydrocarbons floating on the water. With five different belt types, you will be able to remove product from LNAPL to creosote. The belt oil skimmer operates at all different water levels so water fluctuation will not hamper your skimming ability. This belt oil skimmer picks up your unwanted product and brings it back to the surface, the belt is then wiped clean, your product is drained into a holding tank or drum, and the process repeats. The PetroXtractor belt oil skimmer is also available in a solar 12v model for remote locations, explosion proof models for flammable fuel, and vapor-tight kits to add to the explosion-proof set-up. With different options available like float switches and timers, maintenance and staff requirements are minimal. Stop pumping and treating your groundwater, install a PetroXtractor belt oil skimmer and save time and money in maintenance and manpower.