Sometimes, an important technological advance begins with a small step-back! Such is the case with remediation of hydrocarbons from groundwater utilizing existing recovery and monitoring wells.
For the past few years, state government has based decisions on the amount of clean up that they require by the risk posed to the environment. Risk Based Corrective Action, commonly called "Rebecca" (RBCA), is a process that utilizes the principles of exposure assessment, toxicity and mobility to make corrective action decisions on sites that are cost effective while still protecting human health as well as that of the environment. Many times all they require is removal of the free-phase product, allowing any emulsified contaminant to degrade with time. RBCA has saved many millions of dollars both for taxpayers and for businesses. With state regulatory agencies taking this approach, oil skimming devices have emerged as one of the most cost effective groundwater remediation equipment choices.
Wastewater engineers in industrial settings have, for many years, understood the value of skimmers in the removal of hydrocarbons from water. Food processing plants, the metals industry, machining firms and utilities have all used skimmers with great success for wastewater treatment. Recently, skimmer manufacturers have modified their product as groundwater remediation equipment. The belt skimmer's ability to get into tight spaces and remove relatively large amounts of hydrocarbons lends itself perfectly to groundwater remediation.
Since most oils, fuels and other hydrocarbon liquids have the tendency to float on water, skimmers are designed to remove only the top, free-phase, product layer. With only product being removed, the cost and maintenance of other down-well and water treatment equipment can be eliminated. Another cost advantage to skimming is that in many cases the product can be salvaged for reuse – further reducing the overall price by eliminating the disposal cost.
The options for remediation equipment through recovery wells are practically unlimited since these wells come in a variety of sizes; any of the available technologies such as pump and treat of bio-remediation can be used in the correct size recovery well. Monitoring wells, however, are small, typically less than 4 inches in diameter. Initially installed for the monitoring of groundwater they are cheaper to construct and just large enough to allow a baling device or oil/water interface detector to pass through. As a cost savings measure, these small diameter wells are increasingly being used for product removal. With the increase in this new use, it is only natural that a number of devices are showing up claiming the ability to remove product through monitoring wells.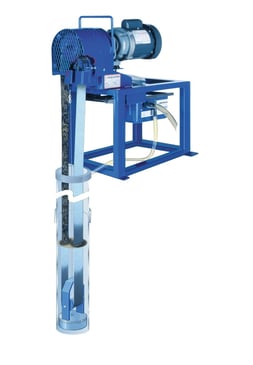 With the requirements for groundwater remediation systems becoming more reasonable, the use of skimming devices in lieu of pump and treat systems is increasing. The enormous expense involved with treating millions of gallons of water including the remediation equipment, monitoring and related maintenance is being replaced with a much more common sense attitude. Skimmers, especially belt skimmers, as a means of remediation equipment, not only meet the challenge but, most times exceed. Pump and treat still has a place in this industry, but the small step "backward" to time proven skimming, a more reasonable and cost effective method, cannot be overlooked.
To find out which of our skimmers would suit your application the best, please contact our experts at 440-543-7400, or click the button below to get our whitepaper, DNAPL A Threat? 9 Ways to Treat DNAPLs!